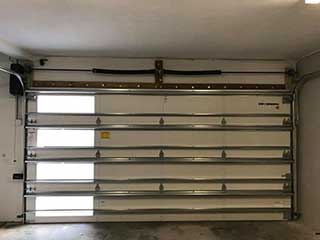 Complex mechanisms, like your overhead door, rely on an arrangement of interworking components in order to move smoothly and effectively. When it comes to garage doors, the springs are perhaps the most important parts of the entire system. They are responsible for supporting the weight of the panels and providing the counterbalance necessary to move them up and down without the owner or the opener using excessive force.
The Two Main Options
Torsion springs are the most commonly used type, and the reasons for that are that these are newer, more flexible and durable units. They work by utilizing torque, which means they are less likely to whip around when they break. Extension springs are the older type, and they use a stretching and contracting action, which makes them more dangerous when a malfunction occurs.
Proper Maintenance Habits
In order to ensure that a torsion spring stays in an optimal condition, it needs to be lubricated regularly, and sometimes its tension may need to be adjusted as well. The friction between the coils must be alleviated, which is where spring lubrication comes into play. If your door starts opening unevenly, it may be out of balance, and adjusting the tension will be required.
Clear and Immediate Danger
Spring replacement and adjustment are two tasks that homeowners shouldn't try to perform by themselves. The high amount of tension involved makes DIY attempts incredibly risky, and one could get seriously injured. Since professional training and experience are required to accomplish such tasks, we recommend that you reach out to our team at Garage Door Repair Roy for any spring related problem you're experiencing. Our technicians specialize in dealing with these dangerous components, so you can rest assured that there's no issue we can't expertly handle for you. Call us today for any emergency repairs you require, or for more information.
In addition, count on us for:
Garage Door Extension Spring Installation
Door Opener Troubleshooting Services
Roll up Garage Door Maintenance
Track Replacement & Repair