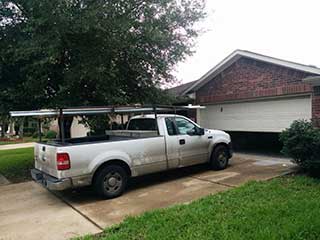 Garage doors can be a bit intimidating because of their sheer size, but that shouldn't stop you from taking good care of yours. The least you can do is to have a professional inspect it regularly and do the necessary maintenance – and that's where we come in!
Thorough System Examination
Visual inspection is how we start all garage door examinations. Our experienced technicians can tell a great deal about the state of your system just by looking at it. A trained eye will catch the smallest issues and fix them before they have the chance to further develop or cause damage to other components. Loose hinges, missing nuts and bolts, signs of rust, sagging springs and frayed cables are just some of the things that speak volumes to us!We'll also take into consideration everything you've noticed as well as what we see and hear as we operate the door.
Proper Part Lubrication
We know which lubricant works best, but more importantly, we know which components to lubricate as well as the exact amount of product that should be applied! For example, some DIY pages will tell you to spray all metal components. By applying that logic, you should lubricate the tracks as well. Well, that's a big no-no! Lubricated tracks can cause the door to slide right off or to become unbalanced.Springs can also be problematic. Yes, they do need lubrication, but are under constant tension and can cause serious damage and injury if not handled properly!
Safety Sensor Testing
The safety sensors are mounted on each side of the garage door entrance. One of them shines an infrared beam to the other. When that beam is broken by any kind of obstruction while the door is on its way down, the door will go back up. The thing is, photo eyes are very delicate. If they are not properly aligned or if there is a short in the wire from a staple, they won't be able to do their job and prevent accidents from happening. That's why we'll make sure your sensors are working perfectly and double check everything for your peace of mind!
Looking for more? We also offer:
Garage Door Cable Replacement
Belt Drive Opener Installation
Part Replacement & Lubrication
Emergency Garage Door Repairs