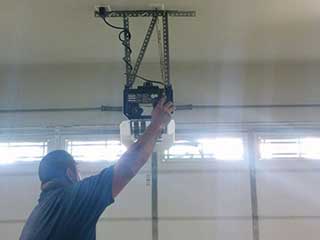 The opener is the most complicated part of your automatic garage door system. Like any complex piece of machinery, though, there are many different problems that can arise, and it can sometimes be hard to identify exactly what the core issue is. Our technicians have many years of experience working with openers of all types, from all the major manufacturers. As a result, we can quickly find and fix any problem, from faulty wiring to a malfunctioning circuit board.
Installing A New Unit
We don't just fix openers that aren't working properly; we install new ones, too. We work with a wide range of quality manufacturers, including industry leaders like Chamerblain, LiftMaster and Genie. Our technicians can provide all the guidance and advice you need to make an informed decision, and once you've picked out the perfect model for you our team will take care of the opener installation process for you.
The Different Drive System Types
Modern garage door openers are highly specialized pieces of equipment, and there are many different features they can be equipped with. However, the first choice you'll need to make is the type of drive you want; chain drive opener models are reliable and also relatively cheap, but also very noisy. Screw drive units require very low-maintenance and are the fastest type, but they are also quite noisy. Belt drive models are extremely smooth and incredibly silent, unfortunately they are also usually more expensive. If you're not sure which would be right for your needs, feel free to contact our technicians for some expert advice.
Additional Special Features
Modern openers are often fitted with an array of special features such as WiFi connectivity and rolling code technology. These can enhance your home's security and make your door even more convenient to use, so be sure to check out the many different options available from the industry's most trusted manufacturers.
Contact Our Team Today
If you have a malfunctioning opener, or you're looking for a new unit, our team at Garage Door Repair Roy can provide the expert services you need. Call our team today to learn how we can help.
We also offer:
Extension Spring Adjustment
Opener Sensor Replacement
Garage Door Remote Clickers