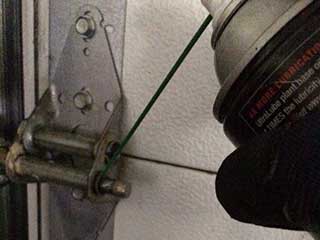 All metal garage door parts which move during the opening and closing cycle require lubrication. This is because of the movement friction that is created between two metal surfaces. As a result of this friction, the surfaces can get scratched and worn over time. One of the major questions to consider is how to select the right lubricant for the job. Read on for an unbiased comparison of the main options available to you.
Light Household Oil
Light household oil is one of the most basic and popular options available. This type of lubricant is readily available and can be used for a variety of jobs around the house. It is easy to apply to the garage door rollers and other moving parts and generally works well. It is not particularly thick, however, so you may have to apply it more frequently.
Dry Graphite Lubricant
Dry graphite lubricant has become more popular in recent times. Its major advantage is that it is not sticky and does not attract too much dust and dirt. As a result, the risk of scratching and surface damage is reduced. Generally, it does a pretty good job when applied as part of regular garage door maintenance routine.
Silicone & Lithium Sprays
Silicone spray is often preferred for its ease of use. It is less sticky compared to traditional oils, however, it is more likely to attract dust and dirt compared to graphite based solutions. This substance is typically recommended for use in areas where the accumulation of dust and dirt is less likely.
The use of lithium spray is becoming more widespread especially in colder climates and low winter temperatures. It's sometimes preferred due to it's resistance to freezing, enabling the door to operate smoothly even when it is extremely cold outside. Lithium spray is also clean and easy to apply. In this case, garage door maintenance may be required less often.
Before you go ahead and invest in a lubrication product, make sure you're aware of the parts that do and don't need lubrication. You should also check the recommendations of the manufacturer of your door as they will likely recommend the best product for their system.