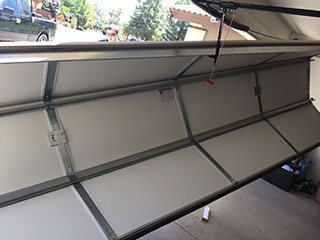 The overhead door system in your garage is one of the most complex machines in your home. It consists of many interconnected components such as cables, rollers, springs and a lot more, and that's without including the opener. As a result, there are many different problems that can arise. Springs and cables can break, tracks can become bent and even the exterior panels can be damaged and require replacement. Over the years, our technicians have dealt with every issue imaginable, so you can rest assured that we can quickly solve whatever problem you're experiencing.
Removing Dents And Damage
It's can be easier than you'd imagine to dent the door panels, especially if they're made of aluminum. The tracks can also pick up dings over the years, and may even become bent, which can prevent the rollers from moving along them smoothly and may even cause a scenario where the garage door gets off track. Dented panels will reduce the door's curb appeal, not to mention compromise its security and insulation properties. Our technicians can straighten the tracks, repair or replace the panels, and make sure that the appearance of your door returns to its beautiful state.
Professional Opener Repair
Your entire overhead door system relies on the opener to automate its operation. If anything goes wrong with this motorized unit, then the door can become inoperable. Our team knows how to identify and solve a whole host of problems, from a faulty circuit board to a worn or broken motor gear. We always make sure to bring replacement parts with us when we go on a job, so if anything needs to be replaced, we'll take care of it right away.
Dealing With Breakdowns And Accidents
When it comes to garage door problems, DIY is not the way to go. There is too much tension and weight involved to make trying to repair your door by yourself worth the risks. Instead, leave it up to our experts at Garage Door Repair Roy. We'll quickly and effectively take care of anything from broken springs to a damaged trolley.
Give our team a call if you need help with:
Garage Door Safety Inspections
LiftMaster Garage Door Openers
Torsion Spring Adjustment
Bent Garage Door Track Repair